THE THIRD REVOLUTION is the first installment in a four book series chronicling a second War for Southern Independence, from its inception in Columbia, South Carolina, to its international aftermath. The series takes a hard, pragmatic look at often uncomfortable subjects like war and race, love and loyalty, and the best and the worst of human nature, and pulls no punches. Needless to say, it is not politically correct.
The series order is THE THIRD REVOLUTION, THE LONG KNIVES, THE BLACK FLAG, and THE WARLORD; all are available on Amazon in both soft cover and Kindle format, along with other books of various genres by the author, Gregory Kay.
About this book: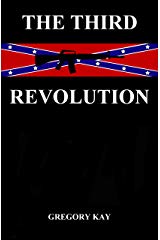 It's the 21st century, and the South is rising again!
When a peaceful demonstration over a Confederate Battle Flag goes horribly wrong, two strangers - police officer Frank Gore and reporter Samantha Norris - find themselves running for their lives. Labeled "terrorists" an pursued by covert government death squads through a South torn by depression, racial tensions, and martial law, their only chance for survival lies with a bitterly divided band of Rebel guerrillas. Faced with a conflict that threatens to split both the Union and the races irrevocably, and the dawning realization that there are no good guys in war, only survivors, they begin to wonder if it's really much of a chance at all.
Torn by duty, allegiance, and their own growing closeness, in a world where nothing is what it seems and no one can be trusted, they're forced to answer the ultimate question:
When passions simmering for a century and a half explode...
When telling the truth becomes a terrorist act...
When paranoid fantasy become reality...
How far would you go to survive THE THIRD REVOLUTION?